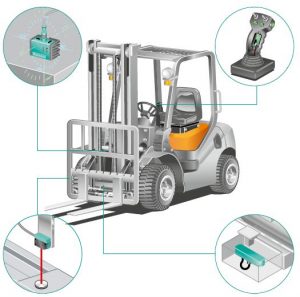 Mobile machines such as forklifts, elevating work platforms, or container stackers, require precise positioning of heavy loads and effective control of rapid movements for transporting materials. Heavy-duty, resilient sensors guarantee precision and reliability both in warehouses and in outdoor applications.
Fork Inclination Monitoring – Inclination Sensor
Detects the horizontal angle of the fork while the truck is in motion
Prevents the truck tipping when transporting heavy loads
Nonmechanical Hand Detection – Capacitive Grip Sensor
If the hand is removed from the joystick, the engine is stopped and hydraulic pressure is lowered
Inadvertent joystick actuation is virtually impossible
Fork Height Monitoring – Laser Distance Sensor
Height monitoring for safe fork movement
Forklift speed can be adjusted according to fork height
Fork Extension Monitoring – Positioning System
Monitors the fork positions for controlled fork extension
Tri-Phase Automation is a distributor of Pepperl +Fuchs in Wisconsin.
Contact Tri-Phase Sales or Get a Quote