S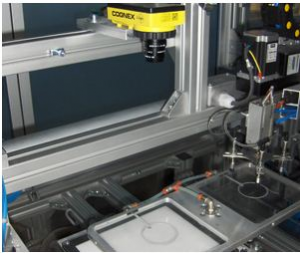 trengthened by their initial experience in the automotive sector, 2BG needed to explore new opportunities to develop their business activities. Taking into account their automotive experience and considering market trends for the development of new sources of clean energy, 2BG decided to start producing machines for the manufacture of solar cells.
The first tabbing machines for the production of solar cell panels used a mechanical alignment and centralizing system was difficult to calibrate. In addition, the direct mechanical contact of this process risked damaging the cells themselves. Therefore, the solar panels could potentially have tiny surface defects at the end of the production and were not well aligned.
The research and development team at 2BG decided to investigate innovative technological systems that could improve their already high standards of quality control and eliminate all potential defects during production.
2BG decided to test  Cognex In-Sight vision systems. The application was rapidly planned and installed by the 2BG team on a first prototype and the final result was excellent.
The In-Sight family of vision systems is indispensable for 2BG because it guarantees such high quality production. For 2BG, it's impossible to imagine their machines without Cognex systems; "Cognex total reliability, the most innovative technology and top order service allows us to satisfy our own high quality standards every time, as well as being able to efficiently plan our business. Another advantage is the fact that In-Sight operates in a simple and efficient manner."
Read the full customer success story:
Simplicity is not sacrificed in demanding a vision system for high quality production