Use of industrial Ethernet switches in motor control circuits.
China's national wind power capacity is expected to reach 30 million W by 2015. By conservative estimation, China's wind power capacity will be up to 80 million W by 2020. The dramatic increase in the number of wind power plants thereby requires a great number of wind farm information management systems and remote wind turbine monitoring systems. Since these systems are used in harsh environments, they need the support of managed industrial Ethernet switches with wide temperature ranges. Recently, a large manufacturer of wind power turbines purchased Advantech's EKI series as the main network switches for its management system.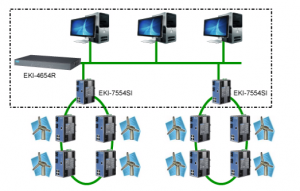 To ensure data security of remote monitoring, the switch should be configured with comprehensive network security. After thorough consideration, the customer purchased Advantech's EKI-7554SI and EKI-4654R as the main switches for the network architecture of their wind farm management and wind turbine remote monitoring system.
This application success story is from Advantech
Tri-Phase Automation is an Advantech distributor in Wisconsin.
Contact Tri-Phase Sales or Get A Quote