Modular safety system exploits rationalization potential
Due to increased printing capacity, automation of logistics processes is critical. Printed sheets must arrive at the feeder and be delivered without process delays. With every unnecessary machine stop, the printing and ink parameters must be reset and optimized, adding time, waste, and cost to the process.
Application Solution: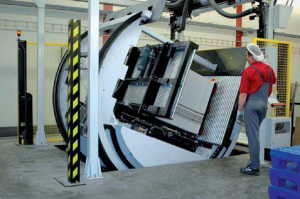 All operator-accessible points on the machine are monitored with light barriers and light grids. Pepperl Fuchs SLA29 sensors are permanently active safety light barriers. Their detection range is extended by means of adjustable mirrors as far as this is useful. Depending on the risk potential, SLC30 safety light curtains may be required as an option for hand protection.
Benefit:
Previously, Krifft & Zipsner had used four different switching devices by two manufacturers for every machine, for example, the SLVA-4K evaluation device for the permanent light barriers and the SLVA-8K for the muted light barriers. All of these functions are now performed by the Safebox in an easier and more rational way.
Tri-Phase Automation is a distributor of Pepperl+Fuchs in Wisconsin.
Contact Tri-Phase Sales or Get a Quote