In pursuit of high-tech, efficient services well attuned to patients' and doctors' needs, the hospital turned to Advantech for a solution to meet their objectives.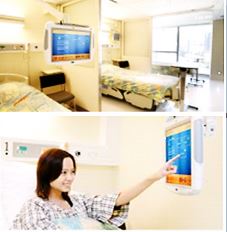 Sanatorium & Hospital constantly strives to find a better way to improve its services to patients and make their stays more pleasant. Advantech's Patient Infotainment Terminal (PIT) was selected to provide a means to enhance medical treatment, minimize errors, positively identify medical staff and their patients, and have access to information. From sales, to selection of a software solutions partner, to installation and deployment by GE Healthcare, the systems integrator, Advantech assisted in the delivery of an all-encompassing system solution. During the Phase III construction, Advantech's PIT terminal was integrated into every in-patient area, creating a high-tech and modern infrastructure to support advanced medical services in a patient-friendly environment. Over 450 systems have already been installed at the hospital, offering a wide variety of TV channels, broadband internet access, medical-related videos and hospital information to deluxe private suites, deluxe private rooms, private rooms, semi-private single rooms, the general ward and the pediatric ward. The same system will be installed in the ICU at a later date. VOIP phone is available in most areas except for the general ward. With the PIT's SIM card reader being an effective identification tool, the hospital hopes that the systems act as the springboardfor a future of extensively computerized access to information and patient records.
Advantech Patient Infotainment Terminal (PIT) is an Intel-based 17", fanless touchscreen PC. It is mounted next to a patient's bedside using 75/100mm VESA standard mounting holes. PIT products have an IP65-certified, rubber-sealed front panel, an IPX1 drip-proof rating, and carry UL60601-1/EN60601-1 medical certifications.PIT products feature a 5-wire resistive touchscreen panel (30 million touches), smart card reader and microphone. The smart card reader can identify hospital personnel. High-resolution displays enable the viewing of X-ray images and other information right at the patient's bedside. PIT products are internet-ready with the capacity of delivering a wide variety of health-related information (in the form of health-related articles and high-quality videos), multimedia entertainment and communication options to patients, as well as bettering medical services. During the newphase renovation, hospital planners installed the PIT system with a full set of accessories, including a handset, remote control, earphone and keyboard.
This application success story is from Advantech
Tri-Phase Automation is an Advantech distributor in Wisconsin.
Contact Tri-Phase Sales or Get A Quote