The hot topic with injection molders is all-electric core pulls.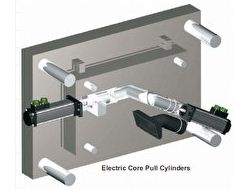 It's an easy retrofit, just replace your hydraulic cylinder with an Exlar electric actuator!
The flexibility of the servo system allows the use of the existing hydraulic control switches for a near drop-in replacement. Additionally, servo systems eliminate lengthy start-ups and high maintenance, minimize cycle time and improve throughput!
Exlar offers several families of all electric, servo linear actuators designed to fit and mount in the same space as hydraulic cylinders. Choose from GSX Series, SR Series, or FT Series actuators, depending on your application. The combination of speed and force will meet or exceed your performance expectations.
Exlar's cylinder design uses a proprietary planetary roller screw, which can offer 30 times the life of a ball screw, is compact and allows the actuator to be completely sealed. – Forces: 100 to 25,000 pounds – Frame Sizes: 2, 3, 4, 5 & 7 inches square – Stroke lengths: 3 to 18 inches – Mounting: Standard cylinder mounting styles.
Tri-Phase Automation is a distributor of Exlar in Wisconsin.
Contact Tri-Phase Sales or Get A Quote