For generations, hydraulic cylinders were the core pull devices selected by mold makers. But today, when it comes to creating the core pull actuation, the ideal electro-mechanical solution is provided by Exlar.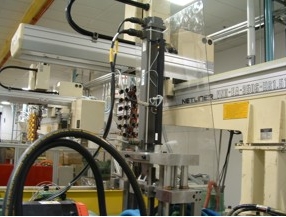 Challenge
Most plastic parts have a void. That void houses the electronics of a lap top computer or cell phone; on a plastic plate that void creates separate places for baked beans and potato salad. But, cycle time is where the money gets made. After the molded product is competed, the mold still has to be cycled, the core removed, the product ejected; and how fast those actions can be moved in and out impacts production.
Application Solution
Traditional hydraulic cylinders are fast, but Exlar's GSX actuator can enhance cycle rates by letting related operations get started sooner. Exlar's actuators and associated servo amplifiers can monitor their own position as well as the status of the rest of the machine, and allow processes to begin as early as possible, and work in conjunction with other processes to maximize throughput. Traditional limit switch controlled hydraulics don't offer this flexibility.
This an Exlar Application Solution.
Tri-Phase Automation is a distributor of Exlar in Wisconsin.
Contact Tri-Phase Sales or Get A Quote