Maximize Performance With Servo Motors
Labeling Machines
Challenge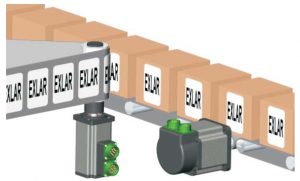 For high speed labeling applications that require accurate and high response motion, the SLM and SLG Series rotary motors from Exlar provide the perfect solution. Where space is at a premium, their footprint is smaller than any other motor offering the same torque.
Application Solution
The integrated gear reducer in the SLG Series offers a higher stiffness and lower inertia than bolt-on gear reducers. These features allow for quicker acceleration and shorter settling times resulting in higher throughput on your packaging machine.
Benefit
Exlar can configure the SLM and SLG Series to operate with nearly any servo drive on the market. This means you can have the advantage of the compact design and high performance of the SLM and SLG, while using the servo drive of your choice.
Tri-Phase Automation is a distributor of Exlar in Wisconsin.
Contact Tri-Phase Sales or Get A Quote