Automated new mobile wine bottling operation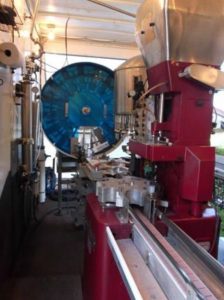 Marathon Bottling and Automation LLC is a mobile wine bottling and custom automation OEM that has been using Unitronics PLCs for over 6 years and have now automated their new mobile wine bottling operation. In conjunction with using Unitronics PLCs on their custom automation projects, they have begun networking Unitronics Vision130™ PLC to control local functions on the truck, and the Vision1210™ for the entire system control and data collection. This mobile operation connects to a winery's tank, pumps the wine into the equipment on the truck and nitrogen sparges, fills, vacuum corks, and labels all the bottles at 50 bottles per minute. The whole bottling system consists of a rotary nitrogen bottle sparger, gravity filler, vacuum corker, a 6 head capsule spinner, and pressure sensitive and cold glue labeler with 6 conveyor control.
In order to get this system running, they required RS485 for control of variable speed AC motor drives along with analog inputs for temperature measurements of incoming water during the sanitation process. Analog inputs were also used to monitor incoming nitrogen gas pressure. Various and multiple I/O were needed for general sensors and pneumatic valve actuators. High-speed outputs were needed for stepper-motors along with high-speed inputs for rapid sensor detection. Accurate label placement with even spacing between front and back labels was also a necessity. "After using/programming several other brands of PLCs, Unitronics software is by far the most intuitive and easily understood while providing significant functionality and quality." Said Murphy. "The time it takes to configure and implement features and functions in other PLC brands often isn't even required in Unitronics due to the ease of use. Completely new features to me are often covered well in the example code. After copy/paste into my code, they often work the first time." "By providing built-in features of RS485, analog inputs and general I/O along with multiple PLC to PLC communication options, Unitronics has always stepped up to the challenges." Said Murphy.
Due to the seamless integration of all these options, the programming challenges are kept to the processes at hand instead of configuration issues, handshake issues, communication issues, etc. that other PLCs require."
This is an customer success story from Unitronics.
Tri-Phase Automation is a distributor of Unitronics products in Wisconsin.
Contact Tri-Phase Sales or Get A Quote