Networking Equipment donated to Aid Chilean Miner Rescue Efforts
Challenge
With Chilean miners trapped, rescuers needed to send down the 'Phoenix' rescue pod networked with a camera for video transmission in order to inspect the rock structure of the tunnel walls. The rescue pod was expected to endure very rugged conditions including extreme heat and a very wet environment. These conditions usually make transmitting the video images back to the rescuers a major problem.
Application Solution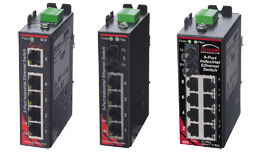 Known for its compact size and rugged reliability in extreme conditions, Red Lion/Sixnet's SLX-5ES-2ST industrial Ethernet switches were used in test runs of the Phoenix to remotely video the tunnel walls and the movements of the capsule. While in the tunnel, the industrial-grade switches endured 95 degree Fahrenheit temperatures and wet conditions to transmit the video images to a nearby control room.
Benefit
The SLX-5ES-2ST is a compact, 5-port industrial Ethernet switch that weighs only six ounces and offers connectivity for both fiber and copper cabling. Red Lion/Sixnet's connectivity products are used in a variety of industries including power & utilities, oil & gas, military, maritime, transportation, video & security and others.
This is an application from Redlion/Sixnet
Tri-Phase Automation is a distributor of Redlion/Sixnet in Wisconsin.  For more information, contact Tri-Phase Automation Sales or Get A Quote