Application
Machine for automated production of blood bags
Colpitt has traditionally used pneumatic or hydro-pneumatic cylinders to control the movements of their blood bag welding machines. However, they were not able to control the process as precisely as this application required. Colpitt was looking to switch to an electric servo system which could control all the motion for this process through PLC programming providing better control of the welding process.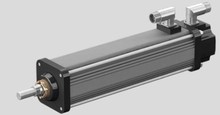 GSX40 and GSX50 servo actuators were used in this application offering Colpitt the ability to manipulate motion parameters instantaneously, via an operator interface panel, eliminating the need for setting switches or changing offsets. This allowed Colpitt to achieve a quick transfer motion combined with a controlled low speed move for pressing at the end of each move. Not only did this help Colpitt maintain a high cycle rate, it also allowed them to achieve the accurate pressing control that their application requires. The integrated nature of the GSX servo actuator allows both force and speed to be set very precisely resulting in an accurate and easily controlled process.
Tri-Phase Automation is a distributor of Exlar in Wisconsin.
Contact Tri-Phase Sales or Get A Quote