Twice the Efficiency with the Same Power Density as Hydraulic Actuators
The medical device industry requires several features and capabilities in a motion control solution. The actuator and servo control must be  environmentally friendly, easy-to-use, highly efficient and most important, reliable.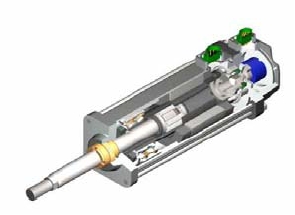 Exlar's all electric actuators are excellent replacements for hydraulic and pneumatic actuators.
Exlar's patented GSX Series actuators offer power density similar to hydraulic actuators without the inconvenience, mess and maintenance required of oil powered hydraulic systems.  Providing twice the efficiency of hydraulic systems, an Exlar solution can save significant energy costs.  Using commercially available servo amplifiers, the set-up time of an Exlar electric system is far less than a fluid power system.
Tri-Phase Automation is a distributor of Exlar in Wisconsin.
Contact Tri-Phase Sales or Get A Quote