Customer:
Food packaging Manufacturer
Machinery:
Packaging film manufacturing equipment detects the red mark tape where the food packaging films glued together for home use by a sensor.
Challenge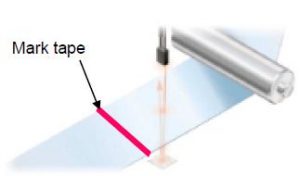 Customer used competitors sensor , but false detection occurred due to the transparent film.
Solution
Panasonic/Sunx Photoelectric Sensor
FX-305 has two output channels. Alarm output mode in PRO mode (PRO6) enables alarm output for light amount drops and signal output for the mark tape detection.