Customer: Auto assembling equipment manufacturer
Machinery: Carrier device
Test tubes are chucked during transportation. A protruding of a test tube is detected because if test tubes are not properly inserted in a rack it disturbs chuck.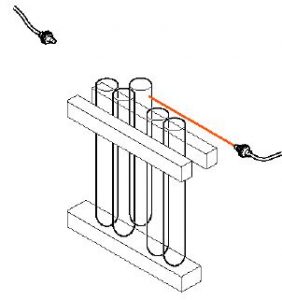 Challenge- Sensor, that detects transparent test tubes even from a long distance in the machinery, is required.
Benefits:
Transparent object can be detected- In this application, transparent test tubes can be detected in the combination of FX-411 which has strong beam power and FT-W8
Long distance sensing – FX-411 has strong beam power, if used with a sharp bending fiber FT-W8 and set to U-LG mode, long distance sensing of 950mm is possible.
Digital dual display – FX-411 incorporates digital dual display that enables easier setting because threshold value and current value can be confirmed at the same time
Tri-Phase Automation is a distributor of Panasonic products in Wisconsin.
Contact Tri-Phase Sales or Get A Quote