Customer: Packaging machinery manufacturer
Machinery: Box packing machine – In the process of assembling boxes for medicals. The presence of white adhesive is verified.
Challenge: Adhesive is detected with the image processing system now, but it's too expensive.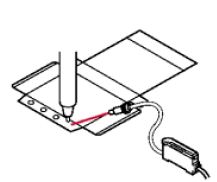 Solution: Photelectric Sensor
Zoom lens FX-MR2 is mounted on Fiber head FD-WG4. The spot diameter can be adjusted with FX-MR2 according to how much the fiber is screwed in.