Stainless steel motors are designed for high pressure, high temperature and caustic wash-down applications.
Challenge
Packaging Progressions specializes in producing stainless steel packaging and processing equipment for the food industry. Their customers needed a motor that could withstand harsh cleaning environments. The challenge was to build a motor that was non-corrosive, sealed and could endure daily cleaning with no protective enclosure.
Application Solution
Engineered sealed stainless steel motor and gearbox featuring feedback and power cables.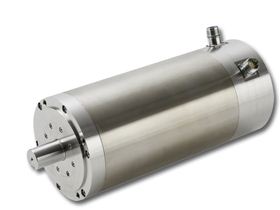 Packaging Progressions & Kollmorgen were able to engineer a version of the AKMH Stainless Steel series motor to eliminate hygienic and longevity concerns.
Bacteria growth was significantly reduced due to the non-porous stainless steel material.  The round motor also reduced square edges that could allow build-up of foreign material. Additionally. the laser etched permanent label eliminated  seams where bacteria may aggregate. The solution eliminated areas where soil and bacteria can hide – and there's no need to disassemble, clean, sanitize and reassemble prior to each use. It is very easy to clean and sanitize in its place, saving significant amount of time.
Stainless Steel Motor Series Maintain the Highest Degree of Cleanliness and Quality. The unenclosed AKMH Stainless Steel series motor takes only 3 minutes to clean versus an enclosed motor that could take up to 20 minutes.
This is a Kollmorgen application solution.