A background suppression photoeye and a vision sensor team up with a Programmable Automation
Axon Styrotech, a leading provider of shrink wrapping and stretch sleeve machines, offers the Axon EZ-Seal 400sl shrink sleeve labeler for flexible, high-speed labeling. This machine, which can process up to 400 parts/min., can accommodate a wide range of container shapes and sizes.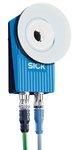 To improve production rates during the labeling process, Axon has added the Inspector I10 Vision Sensor from SICK, Inc. to quickly and accurately inspect label positioning."One reason for selecting this system is that it's easy to program," says Axon electrical engineer L.J. Elrod. "The software interface is well thought out and a great help menu is integrated into it. I have to think of it from the customer's viewpoint. What's going to work well for these guys that have never seen a vision system?" Inspection and rejection were accomplished on past Axon models, notes Elrod, by way of a UV sensor. But this requires a UV additive in the label material, an additive that carries an upcharge to the customer. So by integrating the I10 Inspection/Rejection system, Axon can help a customer cut label costs. The main controller on the EZ-Seal 400sl is a ControLogix from Rockwell. The inspection sequence is as follows. First a SICK WTB background suppression photoeye detects when a container is in place in the inspection system. It sends a signal to the I10 Vision Sensor to capture an image and process it to verify that it is within pre-set parameters. Mostly it's checking that the label is properly centered on the container—not too high or too low. It also looks for any splice marks to verify that a bottle isn't getting a label that includes a splice.
The signals sent from the WTB15 to the I10 Inspector are also delivered to the ControLogix PAC so that it can be verified that the signals were sent. It then becomes the job of the ControLogix controller to send a signal down to the reject mechanism to kick the container off the line if need be.
This is a success story from SICK.
Tri-Phase Automation is a SICK distributor in Wisconsin.
Contact Tri-Phase Sales or Get A Quote