Computing systems are not new to large watercraft. Computers have been used to monitor nautical systems for decades. What is constantly changing are the types of computing systems and the applications they run.
Challenge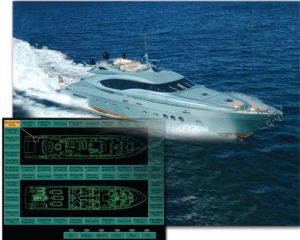 As technology advances in both the systems that run ships and the computers that monitor them, shipbuilders are quick to employ that technology for a competitive or military advantage. It was the competitive advantage NightWatch Industries was seeking when they turned to Southern Controls and to InduSoft two years ago. Alan Davis of Southern Controls explains: "NightWatch had been using Visual Basic to develop display programs for large pilothouse monitors, but they eventually discovered that they really needed a better HMI system to meet the needs of the large, multi-screen, glass bridges which are now standard in the mega yacht world. Norman Dahl of NightWatch agrees. "The smaller PLC driven flat panel displays are fine at the various utility monitoring stations, but the yacht captain needs a better view of how things are running. The pilothouse typically contains an impressive number of controls for which the captain is responsible, and a large screen is really necessary for monitoring the host of systems that run the ship. The passengers and crew depend on it." This need drove the decision to seek out HMI/SCADA configuration software designed for PCs. They really needed a solution that they could use to easily create templates to keep their own costs down. They also hoped they could find some kind of networked system that would enable both the crew and guests to view the ship's system, monitoring it from PCs elsewhere on board. They looked at several systems,but were immediately drawn to InduSoft, in part because it came so highly recommended by Davis: "As an InduSoft distributor I've helped a lot of customers successfully achieve technical and business objectives very much like the things NightWatch was trying to achieve. Most companies are looking to implement superior solutions and hoping to do that while either maintaining or even lowering their costs. InduSoft fits the bill."
The Solution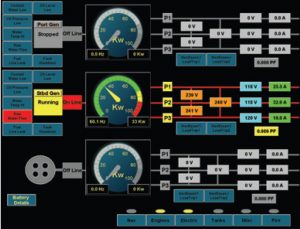 NightWatch was inspired by the partnership because they believed that there would be minimal compatibility challenges -and they were right. As systems began to come online, monitoring modules were put in place and tested, and when there were challenges, InduSoft responded with solid technical support. This factor was important because NightWatch made the unusual choice not to sign up for training when they purchased InduSoft. Dahl offered "We would normally have invested in training with a new application like InduSoft Web Studio. However, we had two factors going for us that caused us to proceed without it.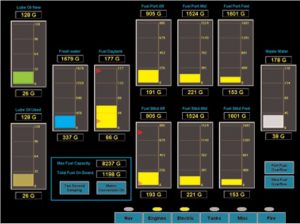 First, we were very familiar with Visual Basic, and we also knew that we had time to learn the product right here because of the lead time to build the yacht. The gamble paid off and I was pleasantly surprised that the product really wasn't that hard to learn." When there were challenges, though, InduSoft responded with unexcelled customer support. When all was said and done, the system worked beautifully. The system monitors hundreds of different points, and thanks to the InduSoft advantage, the screens are more attractive and more articulate. The Captain can monitor dozens of systems almost effortlessly-a critical requirement. Battery and electrical, fire alarms, propulsion, engines, and navigation lights, are just a few of the systems InduSoft Web Studio is now monitoring. And all of these systems can be monitored from anywhere on the yacht.
This is a InduSoft customer success story.
Tri-Phase Automation is an InduSoft distributor in Wisconsin
Contact Tri-Phase Sales or Get A Quote