An S3000 protects the handling area on gantry cranes between printing presses and a printing cylinder store.
Challenge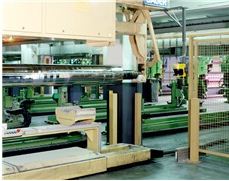 In a large printing works, the approx. 6 m deep handling area for a gantry crane must be protected. The area is also crossed by people. An existing, high maintenance sensor solution, that often requires adjustment and can only be reactivated manually after interruption of the protective field, is to be replaced with a more cost-effective, automatically re-starting, low maintenance system.
Application Solution
The SICK S3000 safety laser scanner is setting a new technological standard and provides a high level of security of investment. Improved performance data and integrated functions provide the user with more benefits. Less mounting and wiring effort, less space required, and in comparison to the past, minimized maintenance effort on the safety system are considered to be significant advantages by this user.
This is an application from SICK.
Tri-Phase Automation is a SICK distributor in Wisconsin.
Contact Tri-Phase Sales or Get A Quote