Miniature photoelectric sensors from SICK provide information about presence and position for electronically controlled tray management in an automated small part stock.
Challenge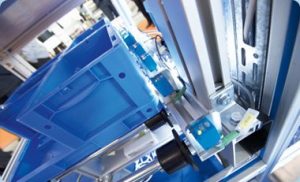 AM-Automation GmbH in Offenau, Germany, founded in 1986, specializes in project planning, electrical, software and mechanical engineering, production and service for automated high-bay and small part stock technology. The company has developed an automated small part stock, in which a transponder-controlled tray management system enables efficient use of space both in the warehouse and on the tray itself. The controller requires information from photoelectric sensors to identify how many containers are positioned on a tray. When the requirements were analyzed, it was established that the sensors would need a compact size and increased ranges. Another important requirement is that the sensors must guarantee a high degree of detection reliability even if there are reflective, light diffusing and depolarizing surfaces at near range. SICK was able to offer a high performance and economic sensor solution for this.
Application Solution
The wide range of miniature photoelectric sensors includes one sensor with particular optical properties (WL100 Bright Light) that has proved to be the ideal solution. Thanks to their small size and suitable fixtures, the devices can be integrated into the automated small part stock's storage rises, perfectly aligned and minimizing on space. The moment that a tray moves into one of the sections, the photoelectric sensors successively identify the containers on the tray. The critical effect of plastic surfaces that depolarize the sensor light (and can therefore disrupt the sensor in close range detection) is suppressed by the WL100 Bright Light. At the same time as the containers are detected, the tray's transponders and the transponders of the containers on the tray are identified electronically and used, together with the signals from the miniature photoelectric sensors, for the REID-assisted tray management. The reliability of the photoelectric sensor signals guarantees a high degree of process reliability and availability when operating the automated small part stock.
This is an application from SICK.
Tri-Phase Automation is a SICK distributor in Wisconsin.
Contact Tri-Phase Sales or Get A Quote