Intellifeed, a manufacturer of high-speed automation equipment, has a machine that singulates small packages for the food and beverage industry, so they can be inserted into another package.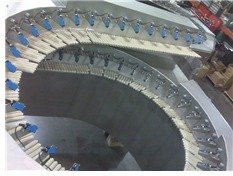 Singulation, the process of separating and aligning side-by-side or overlapping products on a conveyor, allows items such as cereal box giveaways and juice packets to be correctly packaged. Since all products are different (shiny, clear, flat, colored) and are moving at high speeds, a solution is needed that will reliably detect the distance between products on a conveyor. The machine, which separates product before it reaches a case packer or pick-and-place robot, is inadequate without an effective sensing solution.
For this application, the SICK W18 Photoelectric Sensor with foreground suppression was used. The foreground mode allows the sensor to be taught one of the rollers as the background. To sense foil pouches, irregularly shaped objects and any other hard-to-detect objects, an output is given when the background is changed.
The OES3 technology is simple to setup and has the ability to suppress reflections from the machine (machine is all SS). Plus, it complies with IP69K for wash down applications.