Tracking and tracing material numbers using a 2D code reader, preventing damages and injuries via safety light curtains and safety locking devices and controlling quality in limited mounting space with compact and precise sensors in an auto-injector assembly machine.
Challenge
The SHL Group is the world's largest privately-owned designer, developer and manufacturer of advanced drug delivery devices, including pen-injectors, auto-injectors and inhaler systems. It consists of three distinct group companies: SHL Medical, SHL Healthcare and SHL Technologies. Limited mounting space, traceability and safety requirements have led SHL to look for a supplier able to provide a solution for these challenges. Usually SHL uses fiber optic sensors in assembly-testing machines. However, due to a specific request of one of its customers to use compact sensors instead of fiber optic sensors, SHL identified SICK as a supplier able to provide a compact sensor that fits its applications. One requirement was a sensor with a precise light spot able to detect a transparent glass syringe tube. Additionally, a miniature 2D code reader was needed to trace material numbers. Lastly, to prevent damage to its machines and prevent an operator getting injured, SHL required a safety light curtain and safety locking devices for doors.
Application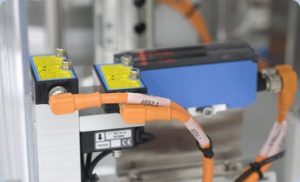 For traceability, SHL identified, in close cooperation with SICK, the image-based code reader (ICR803) as an ideal solution for handling the tracing requirement. The code reader perfectly fits into the limited space SHL has available for mounting. To fulfill the requirement of having compact optic sensors that were precise and easy to align, SHL relied upon SICK's proximity sensor with PinPoint technology (WTB4 PinPoint) with a clear, visible red light spot and SICK's laser proximity sensor (WT9L) with a very precise light spot able to detect small parts inside the syringes. Additionally, both SICK sensors provided a perfect price-performance ratio. The safety light curtain (C2000) and the safety locking device (i10 Lock) from SICK provided machine and operator safety. SICK's ability to provide various solutions and sensor expertise has met the customers' needs as a partner for total sensor solutions.
This is an application success story from SICK.
Tri-Phase Automation is a SICK distributor in Wisconsin.
Contact Tri-Phase Sales or Get A Quote