Solar wafer alignment and damage detection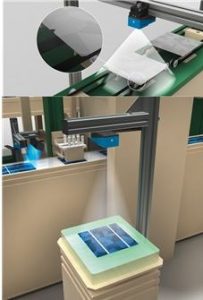 An easy vision solution that solves both detailed inspection and precise positioning applications.
Challenge
Wafer positioning and breakage detection are critical applications in the solar cell production process. To reduce cost and compete with traditional energy sources, the solar industry continually increases production speed and reduces wafer thickness. Vision systems are critical components in the high-speed production of brittle wafers. Wafer breakage can happen at any stage along the production process. Defects should be detected early. Wafer fragments on the production line often cause the subsequent breakage of good wafers.
Application Solution
The Inspector is an intelligent vision solution in an easy-to-use sensor package. No programming is needed, just some parameter setting of predefined tasks. No vision expertise is required to setup the system. The Inspector also includes a calibration feature that corrects lens and perspective distortion. It transforms the pixel coordinates into ready-to-use metric values. Calibration greatly simplifies commissioning and perspective correction allows greater flexibility in the camera placement. Having corrected image to work with the Inspector elegantly solves the application. A special version of the Inspector has been developed for the solar cell industry. There are special algorithms for the solar cell environment providing unmatched positioning accuracy and chip size detection in its category. The Inspector comes with comprehensive functions for production control, including image viewing, recording and off-line support. The Ethernet interface provides easy integration with the tool controls.
This is an application from SICK.
Tri-Phase Automation is a SICK distributor in Wisconsin.
Contact Tri-Phase Sales or Get A Quote