Monitoring paper transport on a sheet-fed printing press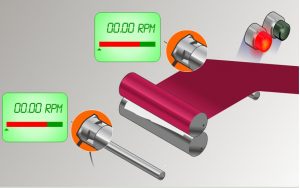 On a sheet printing machine, paper is transported through several colour towers, at high speed. In many cases, the printing material range is only 0.04 mm. The rollers transporting the paper must run in absolute synchronization, otherwise the sheets may be misprinted. The rotation of the rollers must therefore be monitored, and the number of roller rotations per minute must be communicated to the controller. The device used for monitoring must withstand heavy vibrations.
The SICK DKS40 incremental encoder was selected. One of the main reasons was the favorable price, compared with other products in the same quality class. With numbers of lines from 1 to 2048, the DKS40 determines the speed of the rollers and sends the data to the controller. Thus, if the rotation value of a roller differs, this will be corrected by the controller. The encoder housing consists of solid die-cast zinc and with an outer diameter of 50 mm, it is extremely compact, thus saving valuable mounting space. Its core contains the highly successful mini disk technology, making the DKS40 with its IP 64 protection rating supremely robust in respect of shock and vibrations.
Low price, high reliability through robustness and proven technology make it easy for the customer to choose this encoder, which is also used for rotation monitoring and positioning in many other market areas.
This is an application from SICK.
Tri-Phase Automation is a SICK distributor in Wisconsin.
Contact Tri-Phase Sales or Get A Quote