Challenge
A pallet lift that connects several floors in a production building is to be protected against unauthorized or unintentional access during operation. At the same time, it should be possible to insert or remove pallets from the lift without triggering the safety device. There was very little mounting space available on the lift.
Application Solution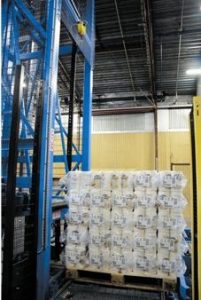 The automatic pallet lift is protected using the S3000, the only safety laser scanner approved for vertical protection at the time of installation. The device was installed at a height of around 3 m directly on the frame of the pallet lift. The floor is used as the reference contour. Two protective fields, one behind the other, monitor the lift opening and detect the direction of travel. When a pallet is loaded, the S3000 safety laser scanner detects the pallet based on the geometry taught; the pallet is transported into the lift. A person will not have the same rectangular dimensions as a loaded pallet and is reliably detected because the geometry is different to the geometry known to the scanner. If a pallet is to be moved out of the "paternoster", the protective field is switched so that a movement in this now reversed direction is allowed.
The pallet lift is reliably protected using the safety laser scanner, without hindering the flow of material. The evaluation of the object contour makes it possible to reliably differentiate between man and material. Also with the vertical protection, not just a protective field, programmed only once, is monitored, its reference contours are also checked continuously. If the device adjustment changes in operation, this contour will change and the S3000 safety laser scanner stops the machine.
This is an application from SICK.
Tri-Phase Automation is a SICK distributor in Wisconsin.
Contact Tri-Phase Sales or Get A Quote