Advantech's POC-S196/S176 Slim Point-of-Care Terminals provided good performance-cost ratio with needed I/O connections. Saves space and increases productivity.
The Hospitalier de Luxembourg, opened in 1976, is one of the largest hospitals in Luxembourg. It employs about 2000 medical professionals, admitting and caring for about 25,000 patients a year and seeing around 400,000 patients on an outpatient basis. Services of the Hospitalier de Luxemboug include hospital, diagnosis, care, treatment, research, and education. Administrative overhead at a facility of this size is significant. Management personnel are constantly trying to operate more efficiently and speed up clinical processes.
Solution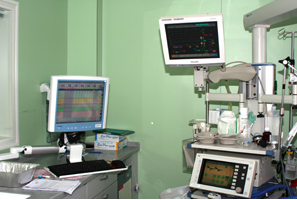 After careful consideration, the Hospitalier de Luxembourg chose Advantech's POC-S196/S176 Slim Point-of-Care Terminals, with LCD panels capable of displaying high contrast images in 16.7 million colors. Advantech slim point-of-care terminals are available in 17" and 19" models, and are very easy to integrate into an existing ICU environment. The touchscreen provides a friendly and easy-to-use interface for medical personnel, and the all-in-one design offers a perfect solution for areas with limited space. The hospital divided the project into four phases with a plan to install wall-mounted 19" POC systems in the ICU, and 17" units elsewhere,either wall-mounted, or on anesthesia devices or mobile carts. The primary deciding factors for the hospital were an outstanding cost/performance ratio, and the inclusion of a variety of I/O connectors as standard features.
Advantech's POC-S196 Point-of-Care Terminal has a slim 19" TFT LCD display and Intel® Core™ Duo processor. With an IPX1 rating, it is designed to resist spills and water damage, and the sealed, IP65-certified front panel is dust tight. The POC-S196 has a variety of I/O connectors: 1 x RS-232/422/485 (isolated, and set by jumper) serial port; 4 x USB ports; and 1 x DVI-I port. The system supports up to 4 GB SDRAM and has a wireless option. The quiet, fanless design is perfect in the quiet environment of the hospital, as well as making it suitable for audio measurement applications. Additionally, the POC-S196 meets UL60601/EN60601regulations.
Improved efficiency
Easy monitoring and access to patient information
Enhanced medical quality and easy for staff to use
Space saving
Fanless
Isolated design reduces electrical leakage
Easy to integrate within existing hospital
Best cost/performance ratio on the market
This application success story is from Advantech
Tri-Phase Automation is an Advantech distributor in Wisconsin.
Contact Tri-Phase Sales or Get A Quote