Reduction of medical scan times is crucial due to the great amount of radiation one is exposed to, and integrated, low-dose medical equipment is the key.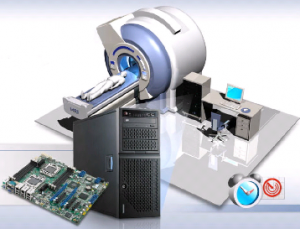 The vendor was looking for a dual-processor motherboard with large memory capacity that could support multiple GPU cards so that the machines could generate images rapidly and reduce scanning time. It was not easy, however, to find such high-grade industrial PC platforms.
Advantech provided an ASMB-310IRIntel® 5500/5560 dual-processor server board featuring six ECC registered DIMMs up to 48GB capacity, two PCIe x16 double-deck GPU expansion cards to enhance graphic performance, redundant design, and remote management functionality to enable easy maintenance. Due to its ideal component placement, additional full-length medical proprietary cards could be used without problem. Redundant design for hot-swap HDDs, power supply units (PSUs), and cooling fans also boosted ASMB-310IR system reliability beyond the specified project requirements.
ASMB-310IR integrates well with the customer's equipment, providing high product reliability, backed by Advantech's co-validation service support. The system also supports huge storage capacity: up to 16TB when configured with an Advantech server-grade chassis – HPC-7480 with its eight SAS/SATA hot-swap hard drive cages.
This application success story is from Advantech
Tri-Phase Automation is an Advantech distributor in Wisconsin.
Contact Tri-Phase Sales or Get A Quote