Detection of bottle tops and protection bottles
Once beverage bottles are filled on a bottling line, they are packed into multi-packs with the aid of heat shrink film. All bottles must be checked to ensure they have tops and that each pack contains the correct number of bottles.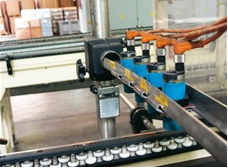 Four CM30 Capacitive Sensors are used side by side on each packaging line and are installed at right angles to the direction in which the packs are transported. As soon as the package of shrink-wrapped bottles moves through the sensor gate, each CM30 capacitive sensor detects the bottles and confirms that each has a top by identifying changes in capacitance values. Any reject can be detected and removed. However, if the capacitance of the CM30 changes as per the values set, the pack is accepted and can be placed on a pallet.
CM30 Capacitive Sensors feature an industry-proven, standardized housing design and connection system. The sensitivity and the switching distance can be adjusted directly on the sensors. In addition, the plastic housing has an IP 67 enclosure rating to ensure cleaning work on the machine will not affect the sensor, even over the long term.
This is an application from SICK.
Tri-Phase Automation is a SICK distributor in Wisconsin.
Contact Tri-Phase Sales or Get A Quote