Gorosabel in Spain needed a solution to inspect its fragile solar cell panels. The company needed a powerful vision solution that could handle high-speed production while performing different inspection tasks while ensuring that the delicate product remained intact. In-Sight® vision systems from Cognex are now performing the inspection task ensuring zero fault production.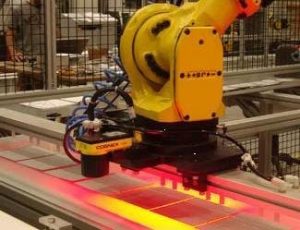 Gorosabel S.A. was created in 1957 and, with its extensive experience in machine tool automation, set up the Gorosabel Solar Energy division for renewable energy applications at the end of the 1990s. Their expanded product range now includes measuring instruments, integrated solutions for photovoltaic and thermal module production chains, installation engineering, and handling solutions and production accessories. With over 50 professionals and 3,500 m² of facilities at its disposal, the company has extensive experience plus the ability to develop and respond to new technologies.
The challenge—cell alignment.  The company ran up against a particular difficulty, in that solar cells are fragile and hard to position mechanically. The wide variety of cells makes this positioning even more complicated. Solar cell production is relatively expensive and, given the high level of automation and large volumes involved, quality is a decisive factor in obtaining a competitive advantage. Consistently positive results when implementing machine vision systems in the past encouraged further adoption when faced with the alignment challenge. In addition to centering the solar cell properly, the new system could also perform defect checks, such as inspecting for broken edges or cracks, verifying dimensions, further positioning in relation to the edges, etc.
The best vision system for the task Gorosabel consulted with Ikusmen, a Cognex partner systems integrator in northern Spain, and found a suitable solution using Cognex In-Sight vision systems. To solve the problem, the Cognex In-Sight camera is positioned in order to inform the robot of the cell position and to inspect its condition once in the field of view. The camera calculates the cell's position and orientation and transmits the data to a robot, which then positions it correctly by the rear weld-on TAB. Moreover, if it detects any defects, it notifies the robot so that it can reject the cell.
This is an Cognex application success story.
Tri-Phase Automation is a Cognex distributor in Wisconsin. We offer machine vision evaluations and technical support to help our customers solve their applications. Contact Tri-Phase Sales or Get A Quote