Reliable, secure encrypted remote access reduces on site visits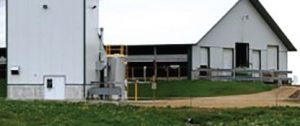 USEMCO Universal Sanitary Equipment Manufacturing Company based in Tomah, WI, is the industry leader for the custom engineering and manufacture of turnkey pump stations, control systems and access doors  for Municipalities and Industry.
Installing an eWON industrial router, which provides secure GSM and Ethernet remote access, control, alarming and data logging, has enabled USEMCO Inc. to easily add a cost effective competitive advantage to their Bi-gester anaerobic digester facility, while using the freely available Talk2M cloud infrastructure for simplified and managed device and user authentication, integrating enhanced data collection was easily achieved through a variety of flexible options from CSV export to an API while enhancing their ability to meet the challenges of their wastewater customers. The combination of the eWON 2005CD industrial router and the VNC capability of the operator interface enables USEMCO engineers to remotedly log into the display and navigate the screens to see how the disgester is performing. Collecting data to build a usable database helps evaluate critical operations of the digester and determine necessary changes to the process.
This is a eWon/HMS customer success story.
Tri-Phase Automation is a HMS/Anybus/eWon distributor in Wisconsin.
Contact Tri-Phase Sales or Get A Quote