Pipes cut to length in no time at all, with no shavings and hardly any burs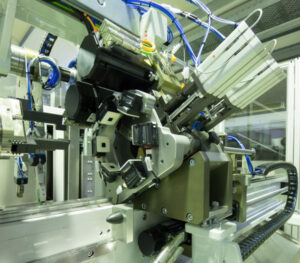 The quality of individually prepared pipe sections is measured in terms of precise lengths and edges with no shavings and hardly any burrs. These pipe sections are eventually used for mechanical engineering applications, particularly within the automotive industry. The Vario pipe-cutting system is designed for thin-walled pipes and works in tandem with a motion control solution from Kollmorgen.
In this application, the metalworking customer utilized Kollmorgen's PDMM, AKD, and KAS programming software as a control system for precise cutting of pipes. All automation programmed from a single source was a highlight for this customer, along with the ease of programming using Kollmorgen's implementation of the Pipe Network.
Read The Full Application Story: Kollmorgen pipe cut to order
We are a distributor of Kollmorgen in Wisconsin and Illinois.  Contact Us for all your Kollmorgen motion and other automation needs.