WITTENSTEIN alpha MULTIVAC and worked to set a new industry standard for corrosion resistant gearboxes.  Here, the design of the surfaces was vital.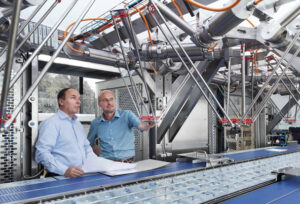 MULTIVAC mandated that their corrosion resistance should not be impaired either at installation time or subsequently during operation.  As a result of paint damage for instance.  The requirement was fully met in along with those of EHEDG and other relevant guidelines.
The Solution
An austenitic stainless steel was selected for the gearbox surfaces in their delta robots. Steel fulfills the increased corrosion resistance requirements which are specified for chlorinated alkaline foam cleaners where the oxidative component has a strong effect on materials, or for chlorinated fluids as stipulated for food processing applications.
Tri-Phase Automation is a Wisconsin Wittenstein Distributor.   Please contact us for all your automation needs