Mark Andy, a  printing industry leader, wanted to upgrade the controls on their servo-driven inline flexographic printing presses and to standardize their product line on a single architecture to improve the ability to support customers. At the same time, they needed to maintain the highest levels of print quality using the latest hardware and software available.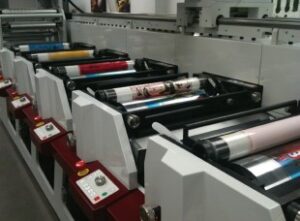 After thoroughly evaluating top brands, Mark Andy made several observations that influenced their final decision. some of the companies presented polished software packages, but the hardware lacked backward and forward compatibility and future upgrades would be costly. Other companies demonstrated industry tailored products, but there were doubts about support and product obsolescence. Mitsubishi Electric offered the best combination of reliable hardware and intuitive software with a clear long-term strategy for upgrades and product end-of-life. Ultimately, Mitsubishi Electric was selected to demonstrate the iQ Automation Platform with MR-J4B-RJ servos, the GT27 Series HMI, and iQ Works Software.
A pilot project was started to evaluate the performance with emphasis on registration accuracy, servo following error, and tension control since these directly affect final print quality. After the testing and developing period, they were able to demonstrate significant performance advantages including improved tension control and more accurate registration compared to other tested systems.
Read the full story: Case Study – Mark Andy