HMIs from Beijer Electronics are used in Ehrl Carwash equipment due to the network capabilities, compact design, and high resolution display.
Ehrle, a leading European manufacturer of high-pressure cleaning equipment, offers both mobile and stationary cleaning units as well as complete self-service car washes.  When it was time to update the self-service car wash system and support the operations companies with additions functionality, they count on the iX HMI solution from Beijer Electronics
 Compact and accessible remotely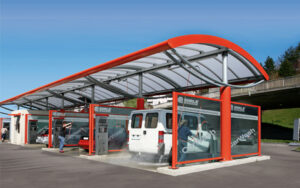 Car was operators needed a convenient, centralized condition monitoring of their entire car wash station. Ehrle also needed to be able to offer operators remote maintenance and remote services quickly and easily.  They were looking for a network capable and compact operator interface with outstanding resolution and graphics. Moreover, it was required to find a panel which could be easily integrated in the existing environment of up to eight networked controllers, and which was able to communicate with all wash bays of the car wash via LAN.
Ehrle benefited from a network capable and compact operation solution in one 7-inch panel with the iX T7A touch panel from Beijer Electronics Additionally, Ehrle had the flexibility to offer car wash operators the larger iX T12B panel when an even more detailed overview of all parameters is requested. Due to the multiple controller functionality of the entire iX HMI panel series, both panels harmonize perfectly with the existing controllers and hardware components, and easily manage up to eight controllers at the same time. The resolution of the iX HMI panels were impressive and the configuration software which made it possible to create operator screens that match exactly what they imagined.
Convenient system condition monitoring
The operator panel is located in a space-saving mechanical room positioned between the different wash bays and provides the operator a complete overview of the entire car wash. On the TFT display crucial information such as turnover, operating hours, chemical dosing volumes, error records and technical service information is accessible – making it much easier for the car wash operator to keep track of financial and technical parameters.
Access around the clock
The iX HMI panel series from Beijer Electronics provides secure access to all data via a web browser; even using a smartphone or tablet PC is no issue. A simple ISDN / DSL connection with fixed IP address at the car wash is sufficient to access the panel display remotely. To be able to support the car wash operators in running their business smoothly, Ehrle can access the system and data via VPN tunnel, resolving technical issues in a fast and customer friendly way. Also, software updates can be loaded automatically without any effort for either the car wash operator or Ehrle.