By using a Remote Data Solution from Ewon, a manufacturer of high speed food tray sealing machines is able to offer its customers real time visualization, production management and fault diagnosis tools, which minimize costly downtime food production environments.
A success story from HMS/Ewon
Packaging Automation Ltd is a leading manufacturer of tray sealing and pot filling machinery, which are used in a wide range of applications in the food industry, including fresh produce, soft fruit packing, fish, seafood, meat, ready meals and sandwiches, as well as pot filling for puddings and sauces. Full packing lines can be specified and installed to include tray denesting, conveyoring, tray filling and film sealing.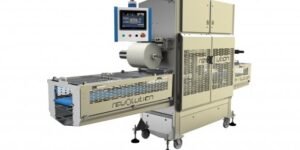 Tray sealing machines are capable of sealing from 12 to 200 packs per minute. These machines are equipped with the Ewon Flexy and Talk2M solution, which allows remote diagnostics and real time visualization of live production data on the machines. Engineers are able to  access remotely and diagnose faults, regardless of the location of the machine and get to the root cause of the problem quicker. This helps customers maintain higher levels of production and improved overall equipment efficiency, OEE.
Their customers have access to a live, web-based view of their machine and its current operating state [stopped/running], as well as live production statistics including output, current running speed and historic details of stoppages and changes to machine parameters. Mobile dashboards were also developed that allow customers to compare OEE statistics across different products on each line, which helps them to identify trends and performance variations by line and shift.
Read the full story:
Ewon Flexy provides tray sealing machines with real time production data
Tri-Phase Automation/ IMAC Motion Control is a distributor of HMS/Ewon in WI and IL.  Contact us for more information or to get a quote.