Data monitoring and remote maintenance is becoming more popular in the Agriculture Industry. From the milking machine to the ventilation system, there is a lot of data and error messages that farmers like to display around the clock on their tablets.
A Case Story from HMS/Ewon:
Börger, based in Germany, specializes in separation technology opted for solutions from HMS Industrial Networks for remote maintenance. The company produces eccentric rotor pumps, chopping devices, separation technology, liquid discharge technology, stainless steel containers and agitation technology for a wide range of industries all over the world including Agriculture.
How the separation technology works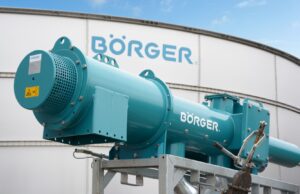 The eccentric rotor pump in their Bioselect, separates the liquid from the solid components of an original material. This is often used for slurry as it allows a substantial reduction in volume. The solids pressed out make great litter for stalls or can be used as solids in biogas plants.  The mixture is fed in via a pump at optimum pressure and moved to the other end using a screw-conveyor. The liquid falls through a circulating sieve, while the solids are pressed against a disc with a flexible bearing at the end. The degree of drying can be varied as a function of the pressing force.
PLC Remote Access
A PLC controls speeds and pressures and remote maintenance has been key to be able to react without somebody having to drive to the customer. For example, the composition of the slurry is dependent on the animal feed.  When changes needed, they can provide quick, simple support.
The Right Router for Each Application


Regularly, the cost-effective Cosy 141 router is sufficient, with its 4-way switch and MPI/Profibus interface, which has everything required to connect both the older (S7-300) and newer (S7-1200) controllers from Siemens. Where there is no internet connection available, the Ewon Cosy 131 Cellular model is the right choice.  For applications where simple remote access is not adequate, the Ewon Flexy router is used. It allows data recording and alarm notification for the controllers connected. The connection to the internal LAN is via WiFi or the mobile network. For many Börger systems, the mobile network is the most important method of communication because the systems are often equipped on mobile trailers.
The Remote Maintenance Box Option
For the customer who do not want to invest remote maintenance. Remote Maintenance Box is available. The box is pre-assembled and labelled. All you must do is plug it in and then can you see the system data and provide rapid assistance or upload an update. Many Börge's customers have such a positive experience that they want to keep the box so they have the option of remote maintenance at any time.
Read the full Ewon case study:
Tri-Phase Automation/ IMAC  is a HMS/Ewon Distributor in Wisconsin and Illinois.
We can answer your questions on remote access and remote maintenance technology or provide you with a quote.