Packaging control system for animal feed products, both flours and pellets packed in 10 Kg, 25 Kg and 40 Kg using a net-band packing machine.
A application story from Unitronics
Control & Automation with Vision™ V700 for Packaging & Bagging Systems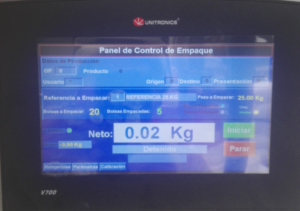 A system integration firm, IGCP Engineering in Colombia, specializes in designing and building complete weighing and dosing systems using scale hoppers.  They turned to Unitronics when a producer and packager of balanced feed for livestock such as poultry, horses, swine, and house pets, and fish farming needed and fast and reliable packaging solution.
Selected for the project was the Vision 700, with its built-in 7″ touch HMI, supporting 65,000 colors, adding Snap-in I/O and Expansion modules—plus the IO-LC1 module for weight control.
The project included a bagging system using a net baler per band, with a capacity of 16 bags / min depending on the space and operating conditions. Their system needed to guarantee the precise weight of each bag, and enable supervision of the packed products, while tracking the number of bags packed. The 24-bit high resolution of the Unitronics IO-LC1 weighing module allowed rapid responses and readings of the baler weight variables.
Advantages of using Unitronics in the production management and packaging system included:
Control over the actual quantities packed vs. the target quantities to be produced
SACKOFF indicator
Accurate weighing: The weight of each bag in kilograms to a resolution of 10 grams.
Real-time production reports via Ethernet
Cost Savings – VisiLogic™ All-in-One software, supplied at no cost with the Vision 700 for PLC control programming and HMI design, thus eliminating the costs of software licensing.
Contact Tri-Phase Automation / IMAC Motion Control for more information or to get a quote of Unitronics products in Wisconsin or Illinois.