Case Study: Bowling Green Municipal Utility
The Incredible Value and Rapid ROI of VFDs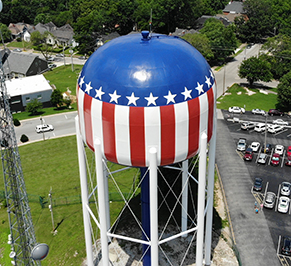 When the water storage tank in Kentucky needed to be taken out of service for repainting, Bowling Green Municipals Utilities (BGMU) had to devise a method to maintain water pressure for the pressure zone it served. They planned on using the water pump station that normally fills the tank to supply water directly to the system. For this process to be successful, the pumps would have to be controllable to allow a decreased water flow at times when demand for water was lower in the zone.
BGMU also wanted to correct the sporadic amperage spikes they had been experiencing. The spikes were triggering a breaker in the pump station to trip, but BGMU couldn't isolate the cause of the problem. They thought it might be a hydraulic surge that was causing the soft starters to experience high amperage, which would then trip the breakers.
The goal of the water project was to replace the soft starters with Variable Frequency Drives or VFDs, so the utility company could control the pumps and run them 24/7 on a proportional-integral-derivative (PID) loop for continuously moderated control.
They proposed to use Mitsubishi VFDs in their wastewater collection pump panels because it gave them a higher heat rating versus other manufacturers. That meant they wouldn't have to install air conditioning in the panels. For this project they opted to use the Mitsubishi Electric FR-A800 VFD to avoid the requirement for additional air conditioning within the existing pump station.
Inverter FR-A800 VFD
Unparalleled Performance. Uncompromising Quality.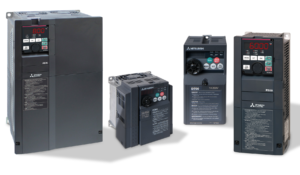 BGMU felt confident with this decision because of their history with Mitsubishi Electric VFDs and their long-standing relationship with their local distributor, Air Hydro Power. Mitsubishi Electric also helped BGMU install a fail-over sensor and then program that into the controllers to ensure redundancy with an existing sensor. To ensure there was no interruption in service due to power outages, BGMU installed a stand-by electrical generator at the pump station.
Ed Grayson, BGMU Instrumentation and Controls Specialist says, "The whole process was seamless. Everything was controlled and operated by the VFDs. We never had any issues with the diversion system." Transitioning back to the water tank was seamless too. Everything went as planned.
This is a case study from Air Hydro Power and Mitsubishi Electric
Read the full story: Bowling Green Municipal Utility
Tri-Phase Automation / IMAC is a Mitsubishi Electric Distributor in Wisconsin and Illinois.  We can answer your questions regarding Mitsubishi Electric's VFDs and assist you with your application.