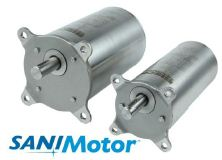 Bison Gear's innovative SANIMotor™ line of stainless steel gearmotors were designed to meet the IP69K extreme washdown rating established by the European IEC for equipment exposed to temperature extremes, constantly wet environments, and the use of harsh cleaning agents.
To ensure long, trouble free life, all electrical components are encapsulated in thermally conductive epoxy resin, allowing use in up to 40°C (104°F) ambient temperatures. The encapsulation optimizes heat conductivity within the motor, allowing TENV construction. The encapsulated assembly is enclosed within a 304 stainless steel tube and investment castings front and back. Output shaft sealing is done with a two part rotor-stator style seal, providing three sealing surfaces. Electrical termination is done with a stainless steel, modular, multi-pin power connector that is IP69K rated. The three-phase 230 volt inverter duty SANIMotor™ gearmotors employ Bison's Verdant Duty™ design for increased energy efficiency and are available in two frame sizes (88.4 and 127mm dia.). Each frame size is mated to 7 standard gearing packages offering fixed output speeds from 345 RPM to 8 RPM and rated torques ranging from 7 to 500 in-lb (0.8 to 56.5 N-m).
Benefit:
SANIMotor™ is ideally suited for food, chemical, and pharmaceutical processing applications as well as foodservice equipment, packaging machinery, factory automation, conveying, car wash, and a wide variety of demanding applications where gearmotors are exposed to harsh environments and/or frequent washdowns.
This application success story is from Bison
Tri-Phase Automation is Bison distributor in Wisconsin.
Contact Tri-Phase Sales or Get A Quote