Packaging of tablets in the pharmaceutical industry with a contrast sensor
Challenge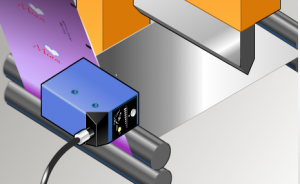 Tablets are to be packed individually in a printed foil. During this fully automated process, the printing is always to be positioned at a defined position for an exact cut. A high switching frequency and a high contrast resolution are necessary for this operation. For design reasons, only high-gloss foil is used.
Application Solution
To solve the problem, additional marks have been printed on the film. These marks are reliably detected by a SICK KT5 series contrast sensor at very high speeds. The high speed response time and the sensor's focused uniform light spot allow high speed and precise detection of the printed marks. By using 3-color emitted light (red, green, blue) the printed marks are detected even where there is poor contrast between printed marks and background colors. High-gloss films are no problem for the sensor due to the automatic gloss adjustment.
Benefit
The KT5 Contrast Sensor helps to reliably and flexibly automate processes and to increase efficiency. The device is easy to use due to the display for visual detection, e.g. detection certainty.
This is an application from SICK.
Tri-Phase Automation is a SICK distributor in Wisconsin.
Contact Tri-Phase Sales or Get A Quote