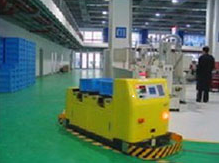 An automated guided vehicle (AGV) is a mobile robot that follows markers or wires in the floor, or uses vision or lasers. They are most often used in industrial applications to move materials around a manufacturing facility. One of our customers was looking to build an AGV for use in their warehouse that could integrate sound, light, and computer technologies which could be programmed to communicate with other robots to ensure products are moved as intended throughout the warehouse, whether to be stored for future use or sent directly to shipping areas.
System Requirements
Automated Guided Vehicles can be used in a wide variety of applications to transport many different types of material including pallets, rolls, racks, carts, and containers. AGVs excel in applications with the following characteristics; repetitive movement of materials over a distance, regular delivery of stable loads, medium throughput/volume, when on-time delivery is critical and late deliveries are causing inefficiency, operations with at least two shifts, or processes where tracking material is important. The customer had the following requirements when looking for products to help build their AGV:
An industrial computer platform with good anti-jamming ability
Easy for I/O expansion
Signals (such as offset and speed) acquisition and motor monitoring
Long time and failure-free operation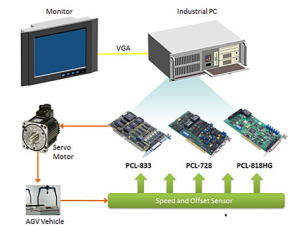 AGVs employ a lot of technology to ensure they do not hit one another and make sure they get to their destination. Loading and transportation of materials from one area to another is the main task of the AGV.  Central logging stores all the data and history from these vehicles which can be printed out for technical support or logged to check for up time. This solution consists of an industrial computer platform for connecting the monitor, keyboard and I/O expansions to read data of speed sensors and offset sensors as well as monitor the motor of the vehicle.
This application success story is from Advantech
Tri-Phase Automation is an Advantech distributor in Wisconsin.
Contact Tri-Phase Sales or Get A Quote