A vessel that moves makes money. A vessel that doesn't takes money.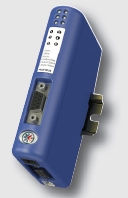 The communication inside the BRC 800 is carried out using Berg Propulsion's own proprietary protocol. The BRC 800 communicates with other electronic devices on the bridge such as for example the Voyage Data Recorder (VDR) which is the ship's "black box" registering every turn or maneuver the ship makes.
One of Berg Propulsion's customers, the Swedish Transport Administration, which operates car ferries, wanted to connect a propeller display to the BRC 800 in order to see the exact position of each propeller at any particular time."The problem was that the propeller display only communicated via a proprietary CAN protocol," says Tomas Holmquist, Group Manager Control Systems at Berg Propulsion. "We considered the idea of developing an interface to this protocol ourselves, but quickly realized that this would take some time. We therefore started to investigate whether there were any ready-made protocol converters. HMS seemed to have a simple and easy-to-use solution in their Anybus Communicator series."Berg Propulsion got in contact with HMS and were suggested a solution involving the Anybus Communicator CAN. This is a stand-alone protocol converter which acts as a translator between devices with a CAN port and any fieldbus or industrial Ethernet network. Berg Propulsion chose to use the Anybus Communicator CAN for Modbus RTU since Modbus RTU could be used to communicate with the BRC 800 control system.The installation is now in use at a car ferry between Gothenburg and Hönö on the Swedish West coast. "It is actually the ferry we take to get to work in the mornings so it had better work," Tomas Holmquist says with a smile. The vessel is equipped with two 360 degree-rotating propellers — one in the bow and one in the aft. As the ferry has no rudder, the only way for the operator to know the position of the propellers, is to use the propeller display.
"Despite the fact that our control system uses a proprietary protocol which doesn't adhere to any particular fieldbus standard, we could easily connect the propeller display to our control system with this gateway," says Tomas Holmquist. "It was easy to set up and whenever we had questions, HMS support was very quick to help out. We don't really have a very advanced solution here and we only send data one way, but we wanted something that was solid and easy to use. The Anybus Communicator CAN was just that. Furthermore, we also see a trend in our business towards CAN-based communication so the Anybus solutions can become even more valuable to us in the future," concludes Tomas Holmquist.
This is an application story from HMS/Anybus.
Tri-Phase Automation is a HMS/Anybus/eWon distributor in Wisconsin.
Contact Tri-Phase Sales or Get A Quote