VLT® AQUA DRIVE
A Smart, Efficient Drives Solution for Water and Wastewater Treatment Applications
How can the VLT® Aqua Drive FC 202 from Danfoss Drives reduce water and energy loss in your environmental wastewater treatment solutions? By ensuring smart, precise pressure control.
AC drives control the speed of motors in a wide range of pump, blower, mixer and dewatering applications to help enhance performance and value while saving energy and costs. In addition, the considerable variation in daily loads in pumping, fan or blower installations makes it cost-effective to introduce motor control.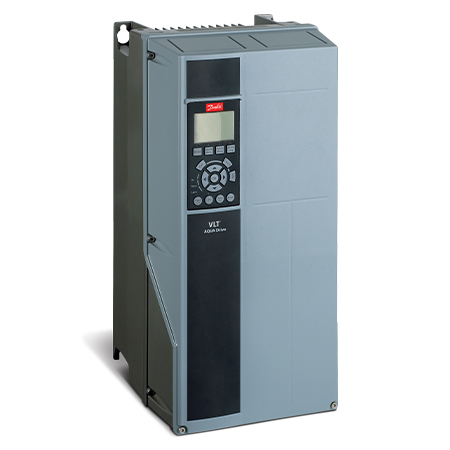 Water Pumps
The challenge with water pumps in particular, whether a groundwater pump, surface water pump, energy recovery pump or another, is high amounts of water and energy loss throughout the system. Utilizing the VLT® AQUA Drive FC 202 can add new levels of efficiency through embedded intelligence. Featuring a wide range of powerful standard features, which can be expanded with performance-improving options, the drive is equally suited to both new and retrofit projects.
On average, improved pressure management reduces system pressure by 38%, which reduces new breaks by 53%. In addition, energy consumption is reduced by 20% to 40% and water leakage by 38%. These improvements result in an extended asset lifetime and fewer network-related complaints.
Wastewater Treatment Systems
A trend in wastewater treatment and management is making the entire water cycle energy neutral. However, a precondition for energy neutrality is a control handle in the form of AC drives available for all rotating equipment — such as a mixer or a dewatering or aeration blower. Using AC-drives, like the VLT® AQUA Drive FC 202, can cut overall energy consumption in these variable torque applications by 20% to 40%.
In addition, the new generation of the VLT® AQUA Drive FC 202 can realistically offer first-year cost savings of between 10-30% when compared to traditional drive solutions. Its high lifetime availability and low energy consumption and maintenance costs provide you with the lowest cost of ownership.
Environmental Water Supply
The importance of a clean, stable water supply is a driver for many industries to move toward zero, or near-zero, water use. On the clean water side, this requires leveraging advanced water treatment technologies such as reverse osmosis, ultrafiltration, wastewater filtering and wastewater purification. The VLT® AQUA Drive helps improve process reliability and reduce operation costs.
Quick and user-friendly setup of pump and fan settings also reduces installation time, ensuring a fast route to maximum energy efficiency and motor control.