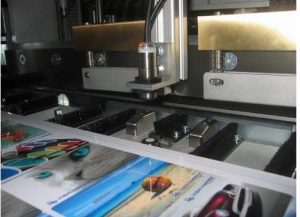 Double Sheet Detection
Cost effective processing of plastic plates and film sheets is very important in manufacturing print products. Quality requirements for high gloss products are very demanding. Even the smallest scratch on the surface or manufacturing steps that are not completely clean can result in waste. Plastic plates and film sheets are separated from a stack into individual units for further processing. Before the individual plastic plates or film sheets are cut to size, a check must determine that only one plate or sheet has been supplied. If not, the equipment can be damaged and the material will be unusable. Double sheet detection increases equipment life and minimizes material waste.
The Solution:
The Pepperl+Fuchs UDC-18GM-400-3E3 ultrasonic double sheet detector checks for the presence of an item before it reaches the blade. The presence of more than one unit, due to static electricity or other reason, triggers an alarm. The UDC-18GM-400-3E3 reliably identifies the presence of no sheet, single sheet, or double sheet, ensuring reliable, quality processing.
Double sheet detection has previously been triggered by a simple mechanical switch. Measurement that involves contact can mar the high-gloss plates or sheets. The change was made to no-contact ultrasonic detection to increase quality. Scratches are now a thing of the past. The Pepperl Fuchs UDC-18GM-400-3E3 ultrasonic double sheet detector is designed for a wide range of applications and is able to check all materials, from transparent film and thin film sheets to plastic plates 2 mm thick. For thicker media, such as sheet steel, the UDCM-30GM-085-3E3 ultrasonic double sheet detector is available.
Tri-Phase Automation is a distributor of Pepperl +Fuchs in Wisconsin. Contact Tri-Phase Sales or Get a Quote