For some mobile equipment applications, electric actuators bring a combination of high power density and high efficiency to places where hydraulics alone once ruled.
Challenge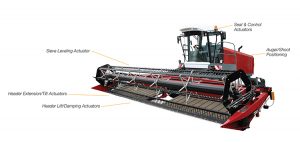 Designers of mobile equipment are facing pressure to use sustainable, energy efficient motion control technologies while still maintaining excellent power density and durability.
Application Solution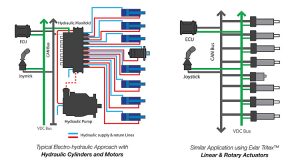 Using Exlar electro-mechanical actuators allows manufacturers to meet stringent emission regulations and accommodate smaller engine sizes while providing enhanced control and power integration. Electric actuators are increasingly finding application in some mobile applications, making them a viable alternative to hydraulics.
Benefit
By eliminating fluid conveyance layouts and the need for ancillary equipment—such as compressors, pumps and hoses—electric actuators have fewer mechanical demands, which simplifies machine design, operation and maintenance. Also, by integrating the controls and power circuitry within the actuator, electric actuators improve overall machine control in mobile applications for a broad scope of industries. Electric actuators are also capable of withstanding harsh environments.
Tri-Phase Automation is a distributor of Exlar in Wisconsin.
Contact Tri-Phase Sales or Get A Quote