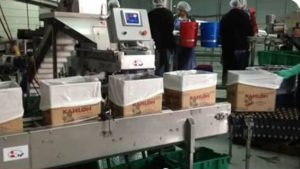 A&B Packaging of Lawrence, MI specializes in fresh packing and cleaning equipment for fruits and vegetables worldwide. They had been using custom, pre-programmed PLC boards to control their packaging and cleaning equipment that had quickly become out of date. They were facing upgrading and re-programming costs of over $85,000 on top of additional costs per-board. Ultimately, they were unable to change the program on their own, which forced them to add an outside HMI.
Application Solution
Unitronics' V570 and V350 PLCs with onboard HMIs were brought in to give A&B Packaging more flexibility to react to their customer's unique needs; versus giving them a canned package. "Our biggest advantage with the Unitronics PLC is the lower overall cost." Said Allen Roggow, Field Tech Supervisor for A&B Packaging. "These units also gave us the ability to customize software and gave us the benefit of having one database to put together the HMI screens." Most of the units A&B Packaging is using are the V570's due to the size of the screens (5.7") and the restrictions on their panel size. They are utilizing the V350 models for their smaller machinery.
This a customer success story from Unitronics.
Tri-Phase Automation is a distributor of Unitronics products in Wisconsin.
Contact Tri-Phase Sales or Get A Quote