Customer:
Resin products manufacturers
Machinery:  Resin molding Machine
Application: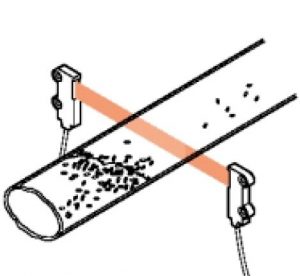 Confirmation of presence or absence of pellets
Pellets, which are material of resin products, are carried by air to a resin molding machine in this application. The pellets inside a transparent pipe is confirmed.
Problem:
Some malfunctions are caused by dregs of pallets, which are left by static electricity, inside a transparent pipe.
 Benefit
FT-A8 can stably confirm the remaining amount of pallets without being fully obstructed by dregs of pallets, because FT-A8 is the wide beam type whose detection width is 11 mm.