SICK Color Sensor synchronizes the packaging process on a bag forming, filling and sealing machine using only one color element in the printed image.  As a result print marks are not necessary.
A crisps manufacturer had the special requirement that he did not want any print marks and the related read strips on the rear of the crisps bag for appearance reasons.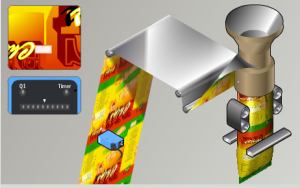 This task can be performed by the CS8-1 Color Sensor from SICK. A color element in the packaging design was taught once using teach-in. Using a small, precise light spot the device moves over all colors on the film and always switches when it detects the color taught. As a result a print mark is not necessary, it is possible to switch using an element in the printed image. The machine is controlled in this manner and cuts reliably at the correct point.
The crisps manufacturer was able to optimize the design of the crisps bag thanks to the CS8 color sensor, that is the manufacturer was able to avoid print marks and read lines. The sensor is easy to operate, works at high speed (up to 6 kHz), has a robust metal housing and is flexible during installation thanks to its exchangeable optics.
This is an application from SICK.
Tri-Phase Automation is a SICK distributor in Wisconsin.
Contact Tri-Phase Sales or Get A Quote