Scanning color difference on labels.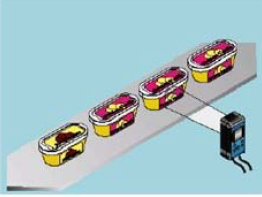 After labeling, ice-cream boxes are packed in batches. During this process it must be ensured only the same type is placed on a pallet. The labels are all the same size and can only be differentiated by color.
It was possible to meet the requirement using the SICK CVS1 Easy color vision sensor. This sensor has a wide light spot and a large scanning distance. It reliably detects any color difference on the labels and triggers the ejection of any incorrect colors. With its 8 memory banks for colors that only need to be taught once using teach-in, a quick batch color change is no problem.
Because the sensor is mounted in a place where it is difficult to see, an external control unit with a dedicated color display and keyboard are used.
Quick batch changes are possible by teaching up to 8 colors. It was possible to reduce to a minimum the complaints due to incorrectly labeled product, reducing costs and improving the image of the ice-cream manufacturer.
This is an application from SICK.
Tri-Phase Automation is a SICK distributor in Wisconsin.
Contact Tri-Phase Sales or Get A Quote