Rapidly Scaling Production of Critical Equipment
Kollmorgen Motion System Enable Quick Response to COVID-19

The rapid demand for face masks in the fight against COVID-19 has led to a severe undersupply and many companies have shifted their typical production focus and retooled to produce this essential personal protective equipment. Beckmann Automation GmbH, a machine builder in Germany has traditionally manufactured machines for mattress and belt production, quickly stepped in to meet this urgent need.
Their main challenge has been an extremely short timeframe for designing and building new face mask production equipment coupled with the challenges of working under COVID-19 restrictions., Beckmann has sought partners able to provide complete subsystems, rather than individual components to streamline the design of its new machine and accelerate speed to market.
The new machine's motion system: the motor, gearbox, drive and cable were considerations of particularly importance.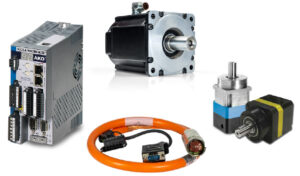 Solution
Beckmann selected Kollmorgen as its motion control partner for the new breathing mask machine. The motion subsystem consisting of an AKM servo motor mounted with a gearbox, an AKD servo drive and a single power/feedback.  Kollmorgen reduced the normal delivery time for a full motion sub-system design by 70%. This quick response has helped Beckmann deliver machines to their customers in the shortest possible time. The motion system enabled Beckmann to ship their first batch of machines within 6 weeks from design.
Results
The face mask production line can produce 70 parts per minute, and up to 100,000 parts per day. Kollmorgen has also supported a similar accelerated production schedule for other key medical device manufacturers who provide CT scanners for both hospitals and mobile care.